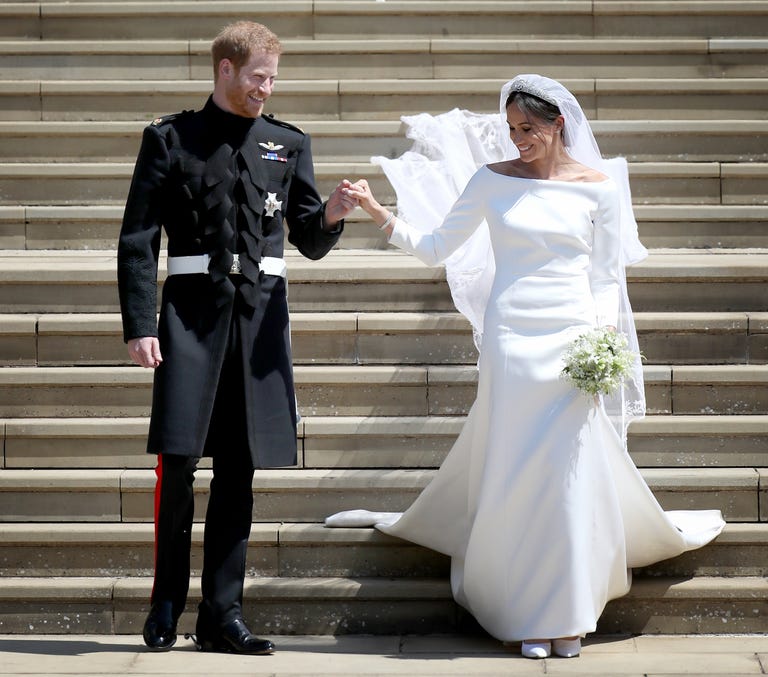 Getty ImagesJane Barlow – PA Images
The week of May 21, David's Bridal stores saw a sudden explosion of interest in two very specific wedding gowns. They'd been carrying the White by Vera Wang high neck halter since fall 2015 and a similar style in lace from Melissa Sweet since April. But at the end of May, sales of the Vera Wang increased by 100 percent and the Melissa Sweet saw a 200 percent increase.
Advertisement – Continue Reading Below
Advertisement – Continue Reading Below
Behold the Meghan Markle effect. The two dresses look similar to the modern, high-neck gown by Stella McCartney that the new Duchess of Sussex wore to her royal wedding reception.
Both quickly "skyrocketed to become top sellers," David's Bridal senior vice president of merchandising, design, and product development Lori Conley tells ELLE.com. "And we've seen subsequent build ever since. [Brides] are definitely inspired by Meghan and responding by wanting to look like a duchess of their own."
The excitement surrounding Markle's bridal style is likely just beginning. In addition to the Stella McCartney, she wore a simple wide boatneck dress devoid of fripperies by Claire Waight Keller for Givenchy during the ceremony. David's Bridal anticipates a permanent pivot from the popularity of heavily embellished gowns to ones with simpler designs like both of Markle's ceremony and reception picks.
Advertisement – Continue Reading Below
Advertisement – Continue Reading Below
"That kind of clean aesthetic isn't going away," says Conley. "We'll continue to see incremental sales of similar dresses. Similarly, as with Kate's dress, Meghan has definitely set balls in motion to change trends… and I think we'll continue to see that build."
Markle's influence on fashion could even surpass Kate Middleton's impact on the industry. Prior to the royal wedding, London-based consulting business Brand Finance estimated her style choices are already worth $212.1 million to the brands she wears. Although the company has yet to run numbers on her economic impact on bridal style specifically, CEO David Haigh said in a press release given to ELLE.com that Markle's global influence is only beginning to show. The "Meghan Effect," as he calls it, "will undoubtedly match or even surpass the 'Kate Effect' in its influence."
Advertisement – Continue Reading Below
For her own wedding to Prince William in 2011, Kate choose a fitted V-neck gown with a long-sleeved lace overlay by Sarah Burton for Alexander McQueen gown. Her dress sleeves practically reintroduced the notion of covered arms to the bridal market, where as before strapless styles reigned.
Markle's modern dresses are already inspiring major bridal designers. Reem Acra, Morilee, Pronovias, and Floravere capitalized on the attention she brought to high-neck halters and simple cuts by immediately promoting previously designed gowns similar in style to their social media pages. Some, like Romona Keveza, even posted side-by-side comparisons on Instagram.
"Designers definitely aren't shy about drawing comparisons, but they're smart to try to tap into the excitement around the royal wedding and Meghan's more modern sense of style," The Knot's fashion and beauty editor Shelley Brown tells ELLE.com. "I expect to see a lot of minimalistic dresses that mimic both of Meghan's dresses coming down the runways next bridal fashion week."
Advertisement – Continue Reading Below
Advertisement – Continue Reading Below
The new royal's accessory choices could even bring regal-inspired bridal headwear back in style. On the big day, Markle topped her up-do with a diamond bandeau tiara (on loan from the Queen) and a cathedral-style veil.
Bridal tiaras and crown first became popular after Kate debuted her Cartier Halo in 2011, but now get a "bad rep for feeling dated," says Brown. "I'm sure they will only become more popular, given Meghan did end up wearing a tiara on her wedding day."
She adds, "They can be really beautiful if done in a delicate way or mixed with fresh florals."
Advertisement – Continue Reading Below
Markle's "barely there" makeup is providing bridal beauty inspiration, too. She tapped makeup artist Daniel Martin to create her wedding-day look: slight smokey eye, neutral rose-pink lipstick, and luminescent skin spotlighting her freckles.
Her decision to show off her natural complexion prompted posts from admirers about embracing their own freckles, using the hashtag #freckleslikemeghan. Some freckle fanatics are even going so far as to get face tattoos to look more like the duchess. Gabrielle Rainbow, who specializes in giving semipermanent faux-freckle tattoos, told NewBeauty that she has been "crazy busy" with requests for the $250 treatment and believes the royal wedding definitely "boosted customers' interest in the whole idea of freckles."
Advertisement – Continue Reading Below
Advertisement – Continue Reading Below
Advertisement – Continue Reading Below
Markle's minimal makeup is part of a larger "no makeup makeup," trend for brides, says Brown. "In general, bridal hair and makeup have become increasingly less fussy over the years, it's all about the undone updo and letting your natural beauty shine through."
She adds, "I think now that such an iconic figure has embraced a very fresh-faced wedding day look, more brides are likely to adopt it as well, especially if simple makeup feels true to their personal style."