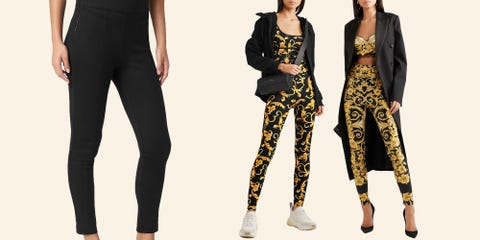 Courtesy
Blair Waldorf infamously claimed that "tights are not pants." We respectfully disagree. I stop short of attending a wedding in leggings (so far), but I can make it work for almost any occasion. Leggings serve a higher purpose beyond the gym. And as a legging aficionado, I've tried them all. From HIT workouts to going to work, these are the absolute best leggings of 2019.
Advertisement – Continue Reading Below
1
Epic Lux Leggings
Great For: High-Intensity Workouts
As a sadomasochist that honestly enjoys a burpee-to-box-jump, I can say nothing holds me in better than Nike leggings. Their compression fabrics are unrivaled, making them ideal for HIT training and cardio workouts. 
2
Align Leggings
Great For: General Workouts
My go-to pair for any kind activity is Lululemon's cult favorite Align leggings. They aren't as intense as Nike's styles, but I use them for hiking, yoga, and running to the grocery store. Bonus: they make your butt look great.
Lululemon, $98 SHOP NOW
3
Jersey Leggings
Great For: Lounging
We'd rather watch Russian Doll naked, but sometimes we have to wear pants. That's what H&M's super cozy pair is ideal for. The waistband is non-restricting, and therefore non-judgmental. Pull these on for the only kind of marathons you participate in: Netflixing. 
4
Printed Stretch-Jersey Leggings
Versace
net-a-porter.com
$795.00
Great For: Fashion-ing 
If you want leggings that stunt, Versace is it. The brand leans in to their '90s aesthetic, and their iconic scarf print is made for lycra. Cop the matching sports bra for athleisure that's heavy on the leisure but also works for a girl's night out. 
5
High Waisted Leggings
Great For: Having a Budget
Leggings might be the very last thing on your expenses list, but thankfully Amazon has a pair that checks off all your boxes. With 22 colors and 4,800 rave reviews—all for under $10—these are totally worth it. 
6
Side-Zip Ponte Leggings
Great For: Business Meetings
Leggings aren't reserved for work outs, unless you consider managing your boss's expectations equal to cardio. Gap makes some of our favorite slacks, and these leggings are as comfortable as workwear can get. 
7
Stretch Leggings
Great For: Sleeping
Sleeping in tight clothing can lead to dire bacterial health down there. The solution is finding a breathable fabric. All leggings have spandex (for the stretch!), but the leggings from Uniqlo are 93% cotton, meaning they are airier than most tights. 
Advertisement – Continue Reading Below