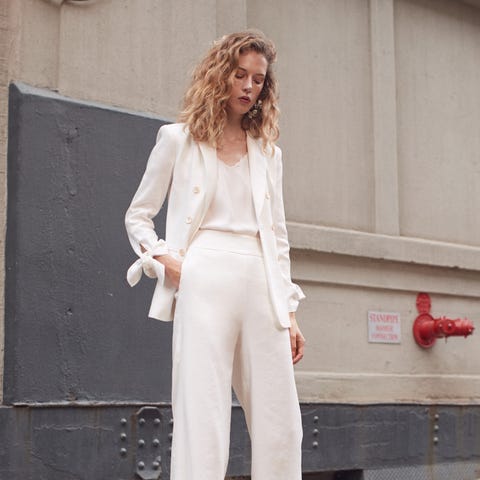 Courtesy of Rebecca Taylor
Last summer, Rebecca Taylor chucked up the deuces to her beloved New York City to set up shop in Paris and unveil a Parisian-inspired lineup for her Fall 2019 ready to wear collection. Complete with flouncy dresses and skirts, polished suiting and slick leather in earthy hues and floral prints the collection fit Paris's easygoing pace. But as they say, you can take the girl out the city, but you can't take the city out the girl, so for her latest venture, Tailored Rebecca Taylor, the designer looked to the fast-paced streets of New York City to dress the woman on the go.
Designed to bridge the gap between "over-the-top feminine" trends and traditional suiting for those in the workplace, the Tailored Rebecca Taylor wear-to-work collection serves up summer-in-the-city looks, including a crisp white suit with lace floral applique, a navy set with wide leg pants that sit just above the ankle, a sleeveless ruffle-trim dress, a high-neck Victorian blouse and more priced between $250 and $550.
"Tailored Rebecca Taylor applies the feminine touches signature to the brand DNA, to soften the masculinity of the suiting category in a way that enhances women without overpowering them," Janice Sullivan, brand president of Rebecca Taylor said in a statement. "At the core of Rebecca's design ethos is understanding and meeting the needs of women while inspiring them to feel feminine, on trend and empowered in their everyday lives. Her emphasis on versatility coupled with a sense of timelessness results in a polished line that takes a fresh approach to form and function."
Shop Tailored Rebecca Taylor launches today, exclusively at Nordstrom, Rebecca Taylor stores and specialty boutiques across the US, UK and Canada