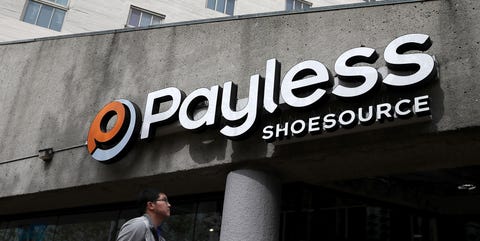 Getty ImagesJustin Sullivan
Payless (as in the discount shoe store) just pulled off the prank of the century. In an experiment that set out to prove shoppers will pay top dollar just for a label, the brand opened an extremely fake boutique called Palessi and invited a group of influencers to come shop the brand's new styles. But wait for it—all of the "designer" Palessi shoes were just $20 kicks from Payless.
Advertisement – Continue Reading Below
CBS reports Payless invited a group of 60 fashion influencers to come shop at the pseudo boutique—which the brand set up at a luxury mall in Los Angeles—and sold them Payless shoes at an 1800 percent markup. (A price tag the influencers paid gladly, by the way). All of the unknowing participants were refunded their money at the end of the experiment, but the results were still hilarious.
One influencer paid $645 for a pair of Payless shoes that range from just $19.99-$39.99. Others marveled at the quality of the shoes, and were quoted as describing the Payless designs as, "Just stunning. Elegant, sophisticated." Of a faux leather sneaker, one anonymous shopper said, "I can tell it was made with high-quality material."
The ruse was videotaped and used to create this truly memorable advertisement for Payless:
To pull off the stunt, Payless enlisted the help of a company called DCX Growth Accelerator, who found the space, built a fake Palessi website, and filled the showroom with shoes and gold mannequins for an authentic feel.
"We said let's give the campaign a handle, something creative that will be stickier, that an upscale retailer would really do," said DCX chief creative officer Doug Cameron. "I went on Wikipedia and looked up a list of Italian family names and saw Alessi, and added a 'P' to that. We also created a website around Palessi because we figured people would Google it."
Well done, Payless. Well done.