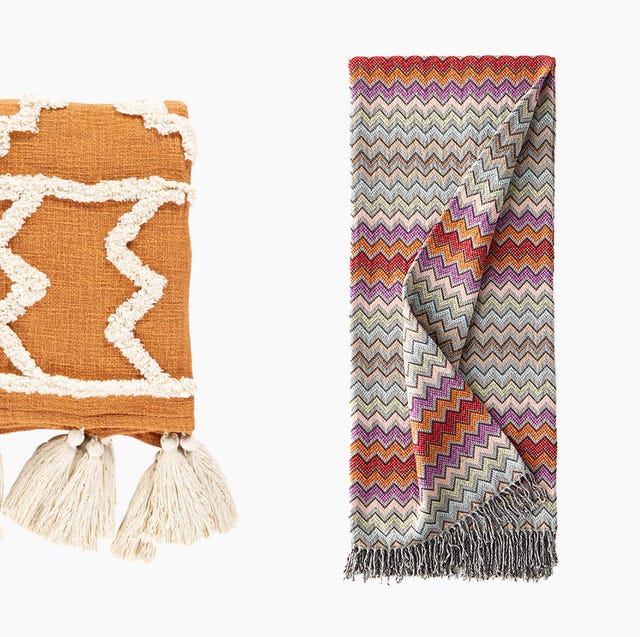 Courtesy
What's a girl to do in a world where she can no longer hug her friends and family? Well, this one bought a snuggly blanket. I know it's not the same as human contact, but until I'm able to safely hug somebody—anybody—I've found joy in upgrading the blanket from college I had been using for Netflix binge sessions. Now every time I swaddle myself in my baby pink blanket, I like to pretend that it's a hug. And until I can have a real one, it's perfect.
If you're like me and in need of human contact, scroll through for 10 blankets that are almost as good as the real thing.
Advertisement – Continue Reading Below
Napsicle
Bearaby
bearaby.com
$249.00
"Throw" maybe isn't an accurate term for a 15-pound weighted blanket. Let's call this a compression blanket, instead. It's probably the closest thing you'll get to a real hug anytime soon, so invest in this to get you through those long winter nights. 
Tapestry Blanket
VISO
goodeeworld.com
$220.00
One part art, one part blanket, one part soothing brain massage. The pure-cotton blanket is loom-woven and hand-finished in the United States using carbon reduced, natural materials. 
Throw Blanket
Brooklinen
brooklinen.com
$249.00
Leave it to Brooklinen to sell a stylish throw blanket with the cutest backstory: the 100 percent lambswool blanket is made in Germany at a family-owned mill that's over a century old. The classic design comes in eight subtle colorways. 
William Throw
Missoni Home
https://www.neimanmarcus.com
$465.00
So you've moved into your big girl apartment. What's next? We think this rainbow-hued Missoni throw blanket. 
Tangerine Throw Blanket
Jungalow
jungalow.com
$119.00
Interior Designer Justina Blakeney's joyful interiors—filled with wares from her boho-chic Jungalow line—will make you smile. This stitched-and-tasseled throw will bring a little sunshine to any couch setup. 
Amped Fleece Throw Blanket
Urban Outfitters
urbanoutfitters.com
$44.00
If Gen Z was a blanket, it would be this fluffy pastel throw. Its double-sided fleece feels like the inside of your favorite pair of sweatpants, and it comes in eight different colors, so you can have one that matches every room. 
Dip-Dyed Throw
Johanna Howard
johannahoward.com
$450.00
Ridiculously soft baby alpaca is hand dip-dyed to create this throw that's reminds us of dusk. 
Premium Faux Fur Throw
Feel like the fanciest version of yourself with this giant faux fur throw. 
Virka Throw
crate and barrel
crateandbarrel.com
$49.95
This one checks all the cute throw blanket boxes: Oversized? Yup. Chunky knit weave? Yes. Pom poms? Oh yeah. And it comes in two colors, so it fits all interior design vibes. 
Coastline Plush Throw
This reversible blanket is the choose your own adventure of cuddling—one side is stuffed animal-soft plush, the other fuzzy flannel. No matter which you pick, you'll be happy. 
This content is created and maintained by a third party, and imported onto this page to help users provide their email addresses. You may be able to find more information about this and similar content at piano.io
Advertisement – Continue Reading Below