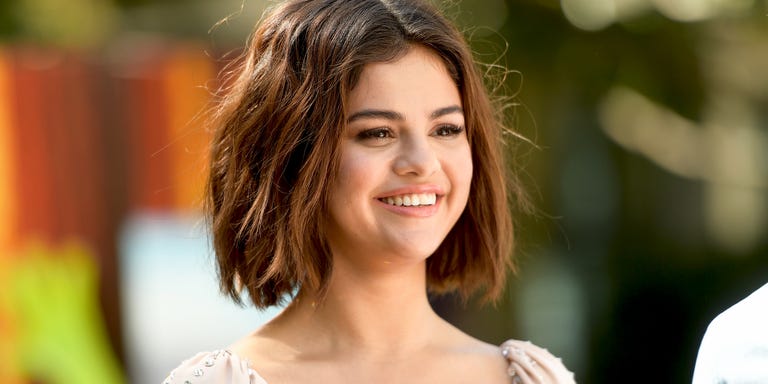 Getty ImagesMatt Winkelmeyer
Selena Gomez just had a press day for Hotel Transylvania 3, where in the midst of answering some light questions about the children's film, she shared some greater, fascinating truths about her life these days and how she has changed the way she lives her life after getting her kidney transplant. Here, the most fascinating tidbits disclosed.
Advertisement – Continue Reading Below
1. Gomez has moved out of Los Angeles. "I don't even live in LA anymore," she told Good Morning American. "I don't pay attention to trying to get people to like me as much." This June, her $2.799 million Studio City bungalow was listed on the market, perhaps for that reason. It's unclear where Gomez lives now, though she has been seen in Texas, spending time with her family. Gomez has talked in the past about wanting to move to New York City, saying in 2014, "I've always said that I want to have a love affair and live there….Everyone always says I'm more New York when they meet me so maybe it would be good for me. I don't spend enough time there."
2. Since her kidney transplant last year, Gomez stresses about what people think of her. "Honestly I've just kind of stepped back a bit," Gomez told Good Morning America. "I enjoy my life. I don't really think about anything that causes me stress anymore, which is really nice…I don't pay attention to trying to get people to like me as much."
Advertisement – Continue Reading Below
3. Gomez's best friend is Raquelle Stevens, who went on that Italian vacation with her and David Henrie, though Courtney J. Barry, who sent E! the questions they asked her, is a close second. "Oh no," Gomez told E! initially because she didn't want to choose. "Okay, fine, we go through seasons but I would say Raquelle." On Barry, she quipped, "She's got a boyfriend though. She's good." Taylor Swift wasn't brought up this time.
4. Gomez's favorite food is peak carby Italian. "I love Italian. Pasta, I love pasta, cream, and mozzarella, all of it," she told E!.
5. Gomez would be far away from Los Angeles, helping kids, if she wasn't an actress and singer. "I would probably move very very very far away and help children," she told E!.
6. Gomez is a Rachel Green. E! asked her to identify which Friends characters she and her friends were. "Yes, I am obsessed [with Friends] and you know it. Courtney [Barry] would be Monica, I would be Rachel, Raquelle [Stevens] would be Phoebe…"
7. Gomez staged tests to make sure her parents' boyfriends and girlfriends were worthy of them. With dating intuition, she told Entertainment Tonight, "I like to say [that I have] decent discernment. But I come from a separated family, so I used to get very protective over my parents when they would date. I mean it would throw me off so I kind of had to give them [the possible boy or girlfriend] a bit of a test."
8. Gomez loves The Greatest Showman's song "This Is Me" so, so much. "A song that makes me really really happy is 'This Is Me' from The Greatest Showman," she said during a press junket for multiple outlets. "I don't care what mood I am or who said who, or what just happened, it makes me so happy and it makes me feel good about who I am and it's amazing to blast in my car." Gomez sings along to it "very loudly."
Advertisement – Continue Reading Below
Advertisement – Continue Reading Below
Footage exists of her singing it: