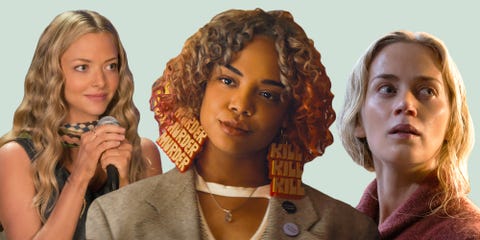 Universal Pictures + Annapurna Pictures + Paramount Pictures
The return of the rom-com. Big Peter Kavinsky energy. Superhero stoushes. Sequels and remakes that are just as great as the originals. (Or even better? Hi, A Star Is Born.) 2018, you were alright by us—at least in terms of the silver screen. Here are the best movies of the year.
1
Avengers: Infinity War
Way to get the gang together: Everyone from the MCU came out to play, or at least fight, so as to foil Thanos' hunt for the all-powerful Infinity Stones. Clocking in at almost three hours, it's an epic and unmissable installment in the Marvel superhero franchise, especially thanks to that astounding ending. —Estelle Tang, Senior Editor
2
Sorry to Bother You
Sorry to Bother You is not a subtle movie—you won't have an a-ha moment in a restaurant 30 minutes later when you realize what the movie is really about. Boots Riley's satire is in-your-face confrontational, peeling back your eyelids to make sure you can see the dystopian capitalism that society and politically interested corporations have wrought. The movie, starring Lakeith Stanfield as a code-switching telemarketer (David Cross plays his "white voice") is one to see as soon as possible, because the horror it speaks of is happening right now. There's a dramatic twist at the end to really drive this point home, but even without those last 20 minutes its warnings about a technocratic society are crystal clear. —Chloe Hall, Writer and Producer
3
A Quiet Place
Not only is the true jump-in-your-seat horror film A Quiet Place directed by John Krasinski, he also stars alongside his real-life wife Emily Blunt, who gives a stunning performance as a pregnant woman in a family that must stay quiet or risk being killed by hypersensitive creatures. It's a truly unique way to approach horror, and the two child actors in the movie only raise the stakes as you watch everyone literally tiptoe around their day-to-day life. You'll cry, you'll cringe, and you'll definitely scream into your shirt. —Madison Feller, Staff Writer
4
Set It Up
They just don't make 'em like this anymore. Who knew the story of two worn-down assistants (Zoey Deutch and Glen Powell) Parent-Trapping their bosses (played by Lucy Liu and Taye Diggs) so they can do less work—let's not unpack that millennial can of worms—would single-handedly save the American rom-com? The Netflix jaunt Set It Up will remind you of a time when movies like How to Lose a Guy in 10 Days ruled the box office and, more importantly, will make you laugh just as much, without the dated gender stereotypes. —Emily Tannenbaum, Social Media and Entertainment Editor
5
Mamma Mia 2: Here We Go Again
Cher. Cher. Cher. Cher. Cher. Cher. Cher. Cher. Cher. Cher. Cher. Cher. Cher. Cher. Cher. Cher. Cher. Cher. Cher. Cher. Cher. Cher. Cher. Cher. Cher. Cher. Cher. Cher. Cher. Cher. Cher. Cher. Cher. Cher. FERNANDO. Cher. —Estelle Tang, Senior Editor
6
Won't You Be My Neighbor
Morgan Neville, whose electrifying 2013 hit 20 Feet from Stardom put backup singers into the spotlight, turns his gaze toward cultural icon Fred Rogers. While one might expect to discover a seedy dark side or ethical compromises under the surface, Neville's doc instead uncovers a clarity of moral purpose that will break your heart and then put it back together again. A movie so genuine, so optimistic, so clear-eyed it's a wonder 2018 produced it, no other film this year will make you feel better. —R. Eric Thomas, Senior Writer
7
Love, Simon
Based on Becky Albertalli's joyful YA novel Simon vs. the Homo Sapiens Agenda, Love, Simon gives teenage romance the studio treatment with winning results. Nick Robinson's Simon is a closeted high schooler who strikes up a pen-pal relationship with a mysterious classmate who is also gay. A luminous Jennifer Garner and an appealing Josh Duhamel play his near-perfect parents. This film hits all the right notes as an uncomplicated, frequently funny coming-of-age story with the best intentions. —R. Eric Thomas, Senior Writer
8
Eighth Grade
The tagline—"Based on the most awkward year of your life"—of this Bo Burnham delight definitely conveys the clarifying highs and excruciating lows Kayla (Elsie Parker) slogs through in her final year of middle school. An unpopular girl making advice videos nobody watches, she tries to change her destiny as queen bees condescend and boys request nudes. But the gentle upshot of the film is that being a good person is enough—and that if you can be kind to others, you can be kind to yourself, too. —Estelle Tang, Senior Editor
9
Blockers
As a major John Cena fan AND card-carrying girl-power supporter, I didn't want to watch this comedy about teenage girls making a pact to lose their virginities: nerdy Cena and girls objectifying themselves? No and no. I am fully glad I got pulled into watching it, though, because the ensemble was hilarious (even pleated-front Cen) and the messaging was actually about being yourself and taking control of your own body. —Leah Melby Clinton, Director of Branded Content
10
Black Panther
Even amongst the giant successes of the Marvel Cinematic Universe, Black Panther was something special: a blockbuster film with an almost entirely black cast, which also happened to be the highest grossing superhero movie of all time. Chadwick Boseman's T'Challa/Black Panther and Michael B. Jordan's villain Killmonger grappled with difficult questions of legacy and power, and audiences approved mightily. —Estelle Tang, Senior Editor
11
Annihilation
It's easy to spot differences from the Jeff Vandermeer novel this moody sci-fi film was based on, but the hazy isolation and otherness of the original remain. With five women in the lead roles, Annihilation was an exploration of new frontiers—both geographical and psychological—the likes of which rarely grace the silver screen. —Estelle Tang, Senior Editor
12
Blindspotting
Written by and starring Rafael Casal and Daveed Diggs (of Hamilton fame), Blindspotting is a powerful, nuanced story about race that balances absurdism, comedy, heartfelt truths, and ice-cold fear from beginning to end. Collins (Diggs) is on his final three days of probation and the world seems hellbent on sending him back to prison. After witnessing a police officer shoot an unarmed black man in the back, tensions rise between him and his best friend Miles (Casal), a volatile white man who can't seem to grasp the fragility of Collins' situation. —Emily Tannenbaum, Social Media and Entertainment Editor
13
Game Night
This action/comedy/horror film takes the worst situation I can possibly imagine—weekly game nights with Pictionary and the like—and turns it into a legitimate nightmare. A group of hapless rubes (including Jason Bateman and Rachel McAdams) get suckered into a drug deal, believing it to be an elaborate murder mystery quest. Game Night is goofy plus gristle: It keeps your attention by never taking its foot off the gas or backing down from some pretty gruesome moments. —Emily Tannenbaum, Social Media and Entertainment Editor
14
Three Identical Strangers
"His eyes were my eyes, and my eyes were his eyes…and it was true." Triplets are rare. Identical triplets who only find out about each other as adults? Almost unheard of, apart from in this gripping documentary about David Kellman, Bobby Shafran and Eddy Galland. But the tale only gets odder from there. —Estelle Tang, Senior Editor
15
Paddington 2
Nobody needs much enticement to spend more time with the beloved bear from Peru and his friends the Browns, but Hugh Grant's pleasurably plural villain, Phoenix Buchanan, only makes this family-friendly sequel even more fun as he changes up personas in pursuit of treasure. —Estelle Tang, Senior Editor
16
To All the Boys I've Loved Before
It's hard for a movie to make you fall in love with four separate people, but Netflix's teen romance To All the Boys I've Loved Before did just that. First, there's the shy but determined Lara Jean Covey, whose personal life gets more complicated when secret letters she's written to her crushes are sneakily delivered. Then, of course, there's the whoa-whoa-whoa sweet Peter Kavinsky, the internet's new boyfriend. Finally, the actors Lana Condor and Noah Centineo, who portrayed the young duo, captured our hearts as well. Bring on the sequel. —Estelle Tang, Senior Editor
17
Hereditary
An effective horror movie stays with you long after you see it, and Hereditary is hard to shake. Toni Collette stars as a woman who uncovers a family secret following the death of her mother that puts the rest of her household in danger. The entire cast deliver bone-chilling performances that leave you guessing until the very end—and the ending itself does not disappoint. —Adam Schubak, Partnerships Editor
18
A Star Is Born
Bradley Cooper directed and co-starred with Lady Gaga in this third remake about a romance between an aspiring songwriter and an established musician struggling with his inner demons. Gaga has acted before, but her performance as Ally pushes her into full-fledged movie star status. The soundtrack is definitely one of the best albums of the year as well. —Adam Schubak, Partnerships Editor
19
Crazy Rich Asians
If there's any doubt that the rom-com saw a resurgence in 2018, Crazy Rich Asians is all the proof you need. It's as funny as it is historically important—it's the first major studio movie in 25 years to have an Asian American lead and an all-Asian cast. Fresh Off the Boat star Constance Wu plays a woman who learns her boyfriend's family is absurdly wealthy when she accompanies him home to Singapore for a wedding. There isn't a weak link in the entire ensemble cast, which also includes Henry Golding, Michelle Yeoh, Gemma Chan, Awkwafina, and Ken Jeong. —Adam Schubak, Partnerships Editor
20
Halloween
It's been 40 years since Laurie Strode (Jamie Lee Curtis) and Michael Myers (Nick Castle) came face to face for the first time and she's been waiting for her shot at revenge. JLC playing a badass grandma who refuses to be a victim is everything we never knew we needed. —Adam Schubak, Partnerships Editor
21
The Hate U Give
Amandla Stenberg stars in this adaptation of Angie Thomas' novel of the same name about a high schooler caught between her elite private school life and her home life in a poor black neighborhood. Tensions build and worlds collide after she witnesses her unarmed friend being fatally shot by a police officer during a traffic stop. It's a story taken from the headlines and given new shape thanks to the talent of Stenberg, Regina Hall, Russell Hornsby, and Anthony Mackie. —Adam Schubak, Partnerships Editor
22
Ideal Home
This comedy about a gay couple (Steve Coogan and Paul Rudd) who take in a grandson they didn't know existed flew largely under the radar. It's funny and a little raunchy, but also a heartwarming reminder that families come in many forms. —Adam Schubak, Partnerships Editor
23
Mary Poppins Returns
Two words: Emily Blunt. While the rest of the cast of this sequel to the 1964 classic Mary Poppins are entertaining, it's Blunt's whimsical, engaging performance that really sells us on a new version of the nanny. The musical numbers are fun and memorable, and Sandy Powell's costumes will transport you to another world, even when that world is a depressed version of London. And, of course, the song and dance number featuring Meryl Streep as Mary Poppins' eccentric cousin Topsy is nothing short of marvelous. —Emily Zemler, freelance writer
24
If Beale Street Could Talk
Barry Jenkins' follow-up to Moonlight is like a perfectly crafted poem, an apt description considering that it's an adaptation of the James Baldwin novel of the same name. The romantic drama, set in 1970s Harlem, is teeming with color and light, and the scenes between the two young leads, played by KiKi Layne and Stephan James, are pure magic (especially the love scenes). It's one of those movies that lingers…and lingers and lingers. —Emily Zemler, freelance writer
25
The Favourite
There has never been a film quite like The Favourite, the latest effort from Greek director Yorgos Lanthimos. Lanthimos takes the idea of a British period drama and turns it completely on its head, creating a bizarre and immensely compelling film about Queen Anne and the two women battling for her favor. Everything about this movie is precise, from the costumes to the production design to the cinematography, and Olivia Colman may finally get all the acclaim she deserves for her performance as the frail, sickly queen. Watch it and then watch it again to see all the details you missed the first time around. —Emily Zemler, freelance writer
26
Widows
So far Steve McQueen's powerful Widows isn't getting the awards attention it deserves. A heist film that's so much more than a heist film, its cast is so wonderfully skilled and diverse, and the movie says real things about class and race. Viola Davis is her usual amazing self and that much talked-about climactic scene is perfectly constructed and shot. Don't read too much about it before watching, since there's a serious, gut-wrenching twist. —Emily Zemler, freelance writer
27
Beautiful Boy
You'll cry about ten times during Beautiful Boy, especially if you don't know the outcome of the real-life story of a son battling drug addiction and the father trying desperately to help him. It pulls top performances out of Steve Carell and Timothée Chalamet, reminding us why both actors have recently featured in award-winning movies. The film is based on dual memoirs from David and Nic Sheff, but the movie stands on its own, offering a sense of what it's like to struggle with addiction—and to watch someone you love do it. —Emily Zemler, freelance writer
28
Roma
Although Alfonso Cuarón's deeply personal film was released via Netflix, you should seek it out on the big screen, where his vivid black and white scenes look even more remarkably composed. The film is based on the filmmaker's childhood growing up in Mexico, and he captures a sense of something so amazingly real that you almost feel like you're there with the characters. Newcomer Yalitza Aparicio shines as Cleo, a maid working for a wealthy family, who accidentally becomes pregnant. It's a true slice of life and every minute of the film feels miraculous and true. —Emily Zemler, freelance writer
29
Can You Ever Forgive Me?
Who knew Melissa McCarthy and Richard E. Grant would be the comedic duo of the year? Director Marielle Heller's gritty dramatic comedy is based on writer Lee Israel's memoir, which details her experience forging letters from famous dead celebrities. As Lee, McCarthy reminds us that she's more than just an over-the-top comic, showcasing depth and subtlety in her performance. Grant is even better as Jack, Lee's only friend, and it'll be shocking if he isn't nominated for the Oscar. —Emily Zemler, freelance writer
30
Leave No Trace
It's hard to imagine wanting to shut yourself off from society, particularly if you're raising a child. But Debra Granik's quietly beautiful film Leave No Trace puts you in the midst of an Oregon wilderness where a father is bringing up his 13-year-old daughter—until they are discovered and forced to rejoin society. It's a delicate film, with little dialogue, but it's incredibly memorable, and actress Thomasin McKenzie is definitely one to watch. —Emily Zemler, freelance writer
31
A Private War
Rosamund Pike can do no wrong, but she is outstanding in A Private War, a film about war correspondent Marie Colvin, who was killed on the job in Syria in 2012. Pike transforms completely into the wry journalist, who wants to highlight the human toll of war even if it means putting herself in dangerous, PTSD-inducing situations. It's the first feature film from Oscar-nominated documentary director Matthew Heineman, and hopefully not the last. —Emily Zemler, freelance writer
32
Cold War
Polish director Paweł Pawlikowski earned the much-deserved spotlight for his Oscar-winning film Ida and he's back in top form with Cold War, a black and white feature about two people falling in love in 1950s Poland. It's beautifully shot and Joanna Kulig will immediately win your heart as a young singer trying to build a career in post-war Europe. It will likely earn a nomination for Best Foreign Film at the Oscars, and it won't be too surprising if it wins. —Emily Zemler, freelance writer