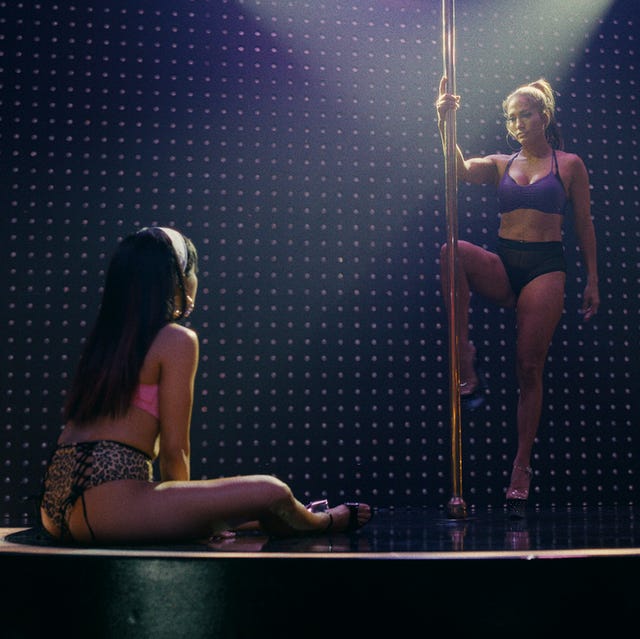 Courtesy of STX Entertainment
From Elton John biopic Rocketman to the so-wild-it-must-be-true tale of Hustlers, 2019 was a big year for movies based on true stories. These are the best, most intriguing real-life tales that got the film treatment this year.
1
Fighting With My Family
Dwayne Johnson executive produced this sports comedy-drama based on 2012 documentary The Wrestlers: Fighting with My Family. It depicts the WWE career of professional wrestler Paige (Florence Pugh), who leaves her family behind to tackle the cutthroat world of professional wrestling. Johnson, a.k.a. The Rock, also makes an appearance as himself.
2
Saint Judy
This is a heartwarming true story about Judy Wood (Michelle Monaghan), an immigration lawyer who fights to change U.S. asylum law to include women as a protected class. Wood focuses her attention on the plight of Asefa (Leem Lubany), an Afghan woman who flees her country after her fight for women's rights ends in sexual assault.
3
Hotel Mumbai
Based on the harrowing 2008 terrorist attack at the Taj Mahal, this movie focuses on the victims and survivors of that dreadful night. The story follows Arjun (Dev Patel), a waiter at the Taj, who puts himself in danger to help those around him. Armie Hammer and Nazanin Boniad star as guests David and Zahra.
4
Rocketman
Last year brought us Bohemian Rhapsody, a biopic focused on Freddie Mercury's life. Less than a year later, Rocketman tells the story of another musical legend: Elton John. Both stories explore similar themes, but Rocketman might just be the superior movie. For starters, Taron Egerton not only plays the role of Elton John with more complexity, but also gets bonus points for doing his own singing (unlike Rami Malek's lip-syncing throughout Rhapsody.) Rocketman also wasn't afraid to tell a dazzling story while still embracing some of the deeper (and darker) edges of Elton's life.
5
Once Upon a Time in Hollywood
Quentin Tarantino rewrites history (again) in Once Upon a Time in Hollywood, inviting audiences to reimagine the true events surrounding the Manson murders and Sharon Tate's fate. The film closely follows the adventures of two fictional characters: Rick Dalton (Leonardo DiCaprio), a formerly successful TV actor and, incidentally, Tate's neighbor; and his stunt double and best friend, Cliff Booth (Brad Pitt). Their friendship is the beating heart of this nostalgic Hollywood picture.
6
Judy
The true magic of Judy, the story of the last year of Judy Garland's life, is in Renee Zellweger's unbelievable performance. You quickly forget that Zelleweger is the woman behind the mic as she transforms into as close to the real deal as you can get. This picture is sure to rack up some Oscar love, and for good reason: Judy is not only visually stunning, but also explores the complicated life of being a working mom in the spotlight.
7
Extremely Wicked, Shockingly Evil and Vile
Ted Bundy's true story landed on our Netflix homepage in late May, and Zac Efron delivered some of his best acting yet as the infamous serial killer who targeted young women. Told from the haunting perspective of Bundy's longtime girlfriend Liz (Lily Collins), the movie has its imperfections, but the sequence in the last 10 minutes between Collins and Efron makes it all worth your while.
8
Hustlers
Hustlers follows the true story of four strip club employees who become infamous for drugging their male clients and maxing out their credit cards. Sure, the story has some moral gray areas, but it is a hell of a good time, especially when you consider the star-studded cast. Jennifer Lopez shines in the role of ringleader Ramona, and Constance Wu, Lili Reinhart, and Keke Palmer portray the rest of her chosen family. And if that wasn't enough, expect appearances from Cardi B, Lizzo, Usher, and G-Eazy.
9
Trial by Fire
Can't get enough of Laura Dern? Watch Trial by Fire, the true story of the bond between an incarcerated man facing death row (Jack O'Connell) and playwright Elizabeth Gilbert (Laura Dern). The social-justice drama is gripping from beginning to end, in part because of Dern and O'Connells performances, but also because it's a reminder that hope can be found in the darkest of places.
10
The Irishman
Martin Scorcese's latest is based on Charles Brandt's I Heard You Paint Houses and follows infamous hitman Frank Sheeran (regular Scorsese collaborator Robert De Niro) as he joins the Bufalino crime family (led by Joe Pesci's Russell Bufalino) and works closely with Jimmy Hoffa (Al Pacino). The film clocks in at three hours and 45 minutes but it's worth your effort—expect it to sweep the 2020 awards season.
11
A Beautiful Day in the Neighborhood
12
Ford v. Ferrari
The 24-hour Le Mans motor race tests endurance rather than sheer speed. Back in 1966, Ford and Ferrari competed fiercely to earn the crown. Matt Damon and Christian Bale play Ford's driver-engineer team Carroll Shelby and Ken Miles, tasked by Henry Ford II to create a machine fast enough to beat Ferrari in the French race.
13
Bombshell
Charlize Theron is Megyn Kelly, Nicole Kidman is Gretchen Carlson, and John Lithgow is Roger Ailes in this depiction of the sexual harassment scandal that rocked Fox News in 2015 and 2016.
Prakruti Patel
Prakruti Patel is a Video Partnerships Coordinator for Hearst Digital Media.