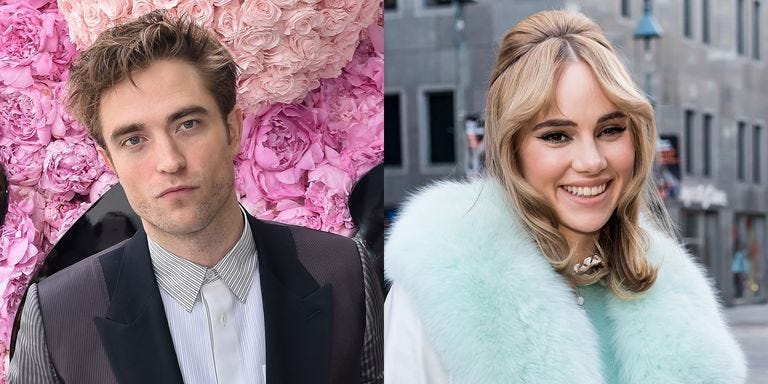 Getty ImagesDominique Charriau
Say hello to this new, unexpected couple: Robert Pattinson and 26-year-old model/actress Suki Waterhouse "are dating," a source told People. The two were photographed kissing in the street after a movie date in London this weekend, according to E!, which has two photos of their smooching. The outlet also has photos of the two embracing, plus a third of Waterhouse kissing Pattinson's hand.
Advertisement – Continue Reading Below
R.Patz took Waterhouse to see a 9 p.m. showing of Mamma Mia! Here We Go Again, then continued the night with her across the street at SoHo House. There, they had drinks and talked and chilled until 1 a.m.
A source who saw them told E!, "They were very close and cuddled and kissed many times. Robert was very affectionate to her and had his arm around her the whole way and Suki reciprocated by holding his hand and kissing it."
Apparently Pattinson tried to dance with Waterhouse in the street too, perhaps because, E! speculates, they had just seen a musical. "They were very loved up and close," E!'s source continued. "Robert stroked Suki's hair and gave her another loving kiss."
Pattinson was last with FKA Twigs; the two called off their engagement in late 2017. Waterhouse was last linked to Jennifer Lawrence's ex Darren Aronofsky, though their reps denied the relationship, per People. Waterhouse also dated Bradley Cooper for two years until spring 2015.
Advertisement – Continue Reading Below
Waterhouse has not commented on the R.Patz reports on her social media. Pattinson, meanwhile, does not have a Twitter or Instagram to make any remark on. Their reps did not respond to People's request for comment.