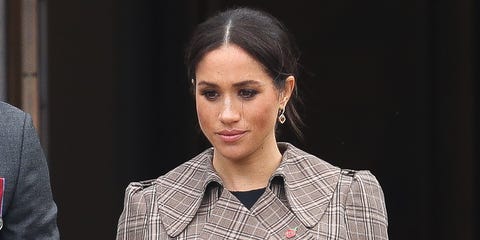 Getty ImagesChris Jackson
All this week, news outlets, especially those in the UK, have run story after story about the rumored feud she and Kate Middleton have and the drama her presence has created generally in the British royal family. Meghan is aware there are stories like this about her, Vanity Fair is reporting via a source. But she also believes she is being targeted in a bit of a smear campaign by some UK outlets.
Advertisement – Continue Reading Below
"She feels to a degree the British press is out to get her and while she's aware of the news and what's going on, she tries her best not to read all the stories about her," a source told Vanity Fair's royal correspondent Katie Nicholl.
Meghan does this in part for her mental health. "Meghan is a believer in karma and she doesn't want to sit there reading negative online stories and comments about herself," the source explained. Nicholl pointed out that unlike Meghan, her husband Prince Harry does read some of the British papers.
This isn't the first time that it has come out that Meghan avoids reading news stories about herself. Meghan told Vanity Fair herself last year for its November cover story that she doesn't read articles written about her. When asked how she coped with some British outlets' nasty stories, Meghan said, "I don't read any press. I haven't even read press for Suits. The people who are close to me anchor me in knowing who I am. The rest is noise."