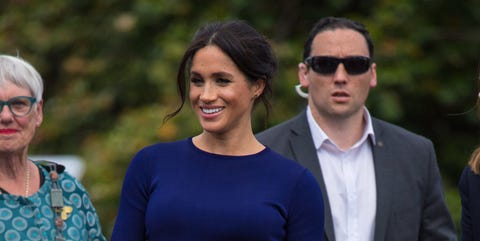 Getty ImagesDominic Lipinski – PA Images
Meghan Markle started the final day of her and Prince Harry's royal tour of Australia, Fiji, Tonga, and Australia in a navy dress by her wedding reception dress designer, Stella McCartney. She's continuing it in a custom navy pleated dress by Givenchy, her wedding dress designer. They're meaningful choices for the end of Meghan's first 16-day, multi-country tour as the Duchess of Sussex, but Givenchy at least is hardly surprising: Meghan has often worn the brand for her big royal firsts.
Advertisement – Continue Reading Below
Shop a Similar Dress:
Meghan wore the dress to Rainbow Springs, where she and Harry learned about the country's kiwi breeding program, and to meet members of the public in the city of Rotorua.
Meghan changed one last time after that to go to Redwoods Treewalk Rotorua to learn about the forest and walk there. She wore a jacket, jeans, and flats for her last tour event:
Advertisement – Continue Reading Below
She and Harry will return to Auckland after their appearances and fly back to London the next morning.
This was Meghan's Stella McCartney look earlier today, her first outfit: