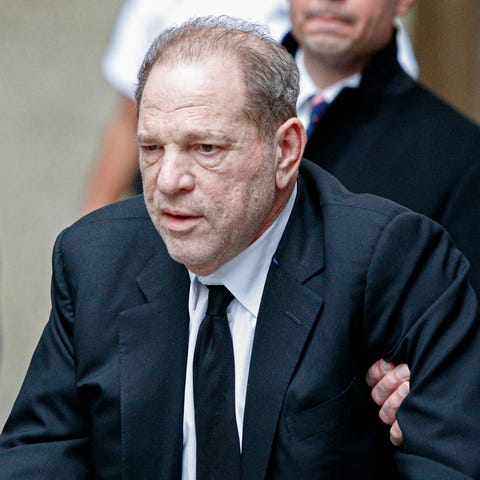 Kena BetancurGetty Images
Jurors in the Harvey Weinstein rape trial in Manhattan are reportedly deadlocked.
The disgraced Hollywood mogul has been accused of misconduct by over 80 women since the The New York Times and The New Yorker published explosive reports detailing decades of sexual harassment, assault, and rape allegations two years ago. The stories ignited the #MeToo movement to expose predatory men in power, and led to the formation of Time's Up. In Manhattan, Weinstein faces five felony charges based on claims by two of those women. He has pleaded not guilty and denies any nonconsensual sex.
According to NBC News, Jurors are deadlocked on two counts of predatory sexual assault, the most serious against him, three days after beginning deliberations. Justice James Burke has reportedly instructed jurors to come to a unanimous decision on these two counts, so that deliberations may continue Monday morning. Here's everything you need to know.
The trial is taking place in New York.
At the New York State Supreme Court. For this particular trial, Weinstein is charged with five counts of predatory sex acts, rape, and criminal sex acts.
Several 'silence breakers' have spoken outside the courthouse
They include Rose McGowan and Rosanna Arquette, who showed up to support fellow accusers.
"You brought this upon yourself by hurting so many," McGowan said. "You have only yourself to blame."
"Time's up on sexual harassment in all workplaces," Arquette said. "Time's up on empty apologies without consequences, and time's up on the pervasive culture of silence that has enabled abusers like Weinstein."
Dozens of other women dressed in all black have gathered outside the courthouse, loudly chanting anti-assault anthems inspired by this Chilean feminist collective. "The rapist is you," the protestors said. "It's not my fault, not where I was, not how I dress." Read more about the performance protest piece, here.
Weinstein arrived at the courthouse with a walker
He has been photographed hobbling into court using a grey walker and surrounded by an army of lawyers. Weinstein also reportedly walked to the front of the courtroom to say his name before the proceedings began, which he did "almost exaggeratedly hunched over," according to USA Today. Weinstein reportedly underwent a three-hour operation on his back and "is now recovering," his representative told Page Six. However, the tabloid also published photos of the disgraced movie mogul without his walker at a Target, "striding around without any support whatsoever."
According to a New York Times report, Weinstein feels "anxious — even petrified — about losing his freedom." He reportedly told the newspaper that he's "found a spiritual connection I never had" and "in that, I have experienced the power of being vulnerable." A friend of Weinstein told the Times: "He doesn't get it. He thinks he's the victim. He doesn't blame himself for anything."
Weinstein's defense hinged, in part, on portraying accusers as consenting participants
His trial started with a hearing that lasted 80 minutes so that the judge set the terms of the trial to come. That was followed by two weeks of jury selection and now eight weeks of arguments, testimony, and deliberations.
According to The New York Times, prosecutors called female witnesses to "show a pattern of misconduct," but that "most of the other allegations against Mr. Weinstein dated too far back to be prosecuted, fell outside New York's jurisdiction or involved abusive behavior that was not criminal. Other accusers were unwilling to participate, convinced the personal toll would be too great."
The trial has centered on graphic and extremely emotional testimony from Weinstein's accusers, many of whom recounted how he lured them back to hotel rooms with promises to advance their careers.
Who is the prosecutor?
Manhattan assistant district attorney Joan Illuzzi-Orbon. According to The Hollywood Reporter, DA Office spokesman Danny Frost described her in 2018 as "one of the finest trial lawyers in the nation, with unparalleled expertise in high-profile cold cases." She is most famous for securing a conviction in the murder of 6-year-old Etan Patz after he was kidnapped on his way to school.
According to THR, Illuzzi-Orbon has prosecuted several other celebrities, including Lil Wayne:
In 2007, she prosecuted Dwayne "Lil Wayne" Carter Jr. and Jeffrey "Ja Rule" Atkins on weapons charges — both were represented by Manhattan defense attorney Stacey Richman and took plea deals. Because of the fact-specific nature of criminal law, Richman says the prosecutor's past work doesn't hint at her coming strategy — but it does show her passion. "She calls herself a soldier in the army of the District Attorney's Office," says Richman. "She is a true believer and seeks to serve what she perceives is just."
The jury now appears deadlocked on two charges
Jurors have also been instructed to reach a unanimous decision or they can't "return a verdict on the two counts of predatory sexual assault, which carry a maximum penalty of life in prison," according to NBC News. The outlet reports that New York Supreme Court Judge James Burke told the courtroom: "It is not uncommon for a jury to believe they will never reach a unanimous verdict but on further deliberation, they are often able to reach a unanimous verdict."
Weinstein also faces additional charges in Los Angeles County.
Weinstein was hit with charges of alleged sexual assault in Los Angeles just hours after being photographed using a walker to enter a Manhattan courtroom. According to The Washington Post, it's unclear at this time whether these charges will affect plans to proceed with pre-jury screenings in Manhattan scheduled for this week. The outlet reports that Illuzzi-Orbon objected to a request from Weinstein's lawyers to have the jury sequestered.
Where is Weinstein now?
He was let out on a $2 million bail and is required to wear an ankle bracelet. The New York Times reports he's been "holed up on his own in a rented apartment in Manhattan" for the past year and a half.
"Harvey is bewildered by how all of this played out," Jeffrey Lichtman, a New York lawyer and friend of Weinstein told the Times. "He is numb, absolutely numb from all of this. He's dazed."
Another friend told the outlet: "He's a tough guy. He thinks he's going to get through this and then make a comeback."
This post will up updated as the trial continues.