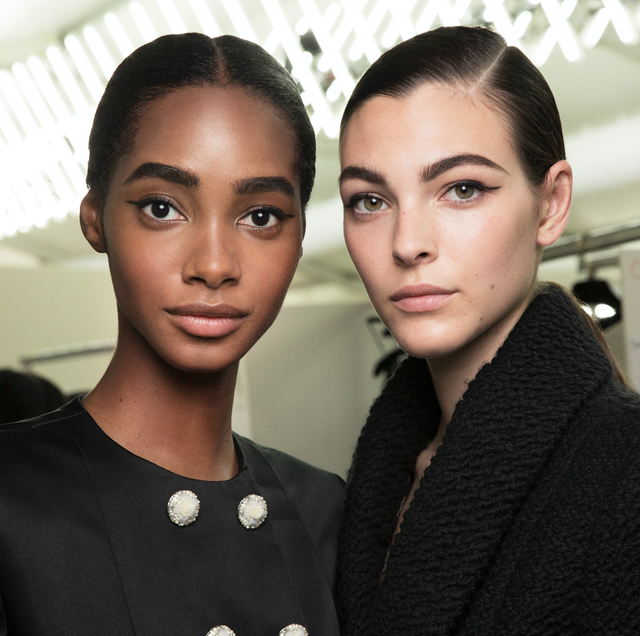 Benoît Peverelli
When it comes to putting on eyeliner, I'm as nervous and shaky as one can get. Eyeliners are basically the MVP of eye makeup, and one wrong move can result in a slew of black marks ruining the flawless mug you spent nearly two hours creating. As the star of your makeup bag, eyeliners work to accentuate the eyes, darken the space between sparse lashes and adds drama.
If there's anyone on this earth that can speak to the beauty of eyeliners, it's Scott Osbourne Jr., the celebrity makeup artist known for his whimsical, intricate, hand-drawn makeup looks that have become synonymous with rapper Rico Nasty's equally whimsical style. Blue eyeliner drawn right under the eyebrow? Yellow eyeliner used to create a star on the side of Rico's face? Pink eyeliner brushed against the cheekbone? Scott has done it all.
Ahead, Scott takes us into his makeup kit to reveal his favorite liquid eyeliners—and I throw in some of my favorites, too.
Advertisement – Continue Reading Below
1
Best Drugstore Liquid Eyeliner
NYX Professional Makeup Matte Liquid Liner
NYX Professional Makeup
ulta.com
$5.25
According to Scott, NYX's Matte Liquid Liner is suitable for all skill levels. "This liner is super easy to use, for beginners, intermediate, or even advanced," he says. "The thin brush creates the perfect stroke for that nice, dramatic wing or a simple subtle liner." 
2
My Drugstore Pick
L'Oréal Infallible Super Slim Liquid Eyeliner
As someone who wears eyeliner religiously, I needed an eyeliner that was affordable, precise, and pigmented. L'Oreal's Infallible Super Slim eyeliner did not disappoint. Our relationship has been going strong for years now and no matter how many new eyeliners may try to take its shine, I'll never part with this gem. 
3
Best High-End Liquid Eyeliner
Magic Marc'er Liquid Eyeliner
Marc Jacobs Beauty
net-a-porter.com
$30.00
"This liner is super sexy and sleek," Scott says. But what he loves most about it is its staying power. "This liner is waterproof, smudge proof and it really doesn't budge after you apply it. I applied on a client at 7am and at 11pm, her eyeliner still looked fresh as new." 
4
My High-End Pick
Eye Defining Liquid Liner Pen
Tom Ford
nordstrom.com
$59.00
What's better than one liquid pen? Two, especially when it's a dual-ended liner with two different applicators that can give you a precise fine line or meticulously winged tips.
5
Best Eyeliner for Cat Eyes
Tattoo Liner
Kat Von D
sephora.com
$20.00
Kat Von D's Tattoo Liner does all the legwork so you don't have to. "The shape of the felt tip applicator makes it so effortless to apply," Scott adds. "The felt tip helps you control how thick or thin you want your cat eye."
6
My Waterproof Pick
Stay All Day Waterproof Liquid Eyeliner
This one's for those who want a reliable eyeliner that will stay put through an all-day Grey's Anatomy binge (I should know).
7
Best Eyeliner for Beginners
Waterproof Eyeliner Stamp
Creating a winged liner just got a whole lot easier. "This liner is super easy [to use] because it has a left stamp and a right one. It's also smudge proof, and waterproof, after you stamp the wing you can easily tight line to your own preference," Scott adds.  
8
My Beginner's Pick
MegaLiner Liquid Eyeliner
Wet n Wild
ulta.com
$2.99
Wet n Wild's MegaLiner is one of the first eyeliners I ever used. It's the perfect liquid liner to practice with because it costs you less than a green juice, is super pigmented, and dries down to a matte finish. 
9
Best Colored Eyeliner
Vivid Liquid Eyeliner Trio
FENTY BEAUTY by Rihanna
sephora.com
$35.00
"The colors are super vivid and bright," Scott says of Fenty Beauty's fan-favorite colored liners. "One swipe gives you a lot of pigment." 
Advertisement – Continue Reading Below