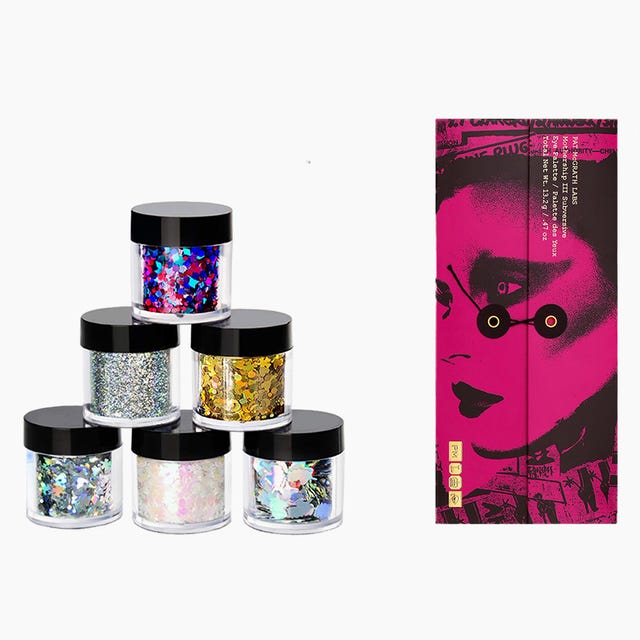 Courtesy of brands
Halloween is hands down the best day of the year to dress up out of the ordinary, whether it be as a ghoul from the dead or an overly-glittered unicorn. But as fun as it is to show out, it can be expensive and tiresome to pull everything together. To make it easier, we've gathered the best makeup kits to create everything from a blood thirsty vampire to an enchanted mermaid. We've also included a few honorable mentions that will work for the big day and beyond.
Advertisement – Continue Reading Below
1
Best Overall
Hollywood Makeup Center
If you're dressing up more than once for All Hallows' Eve, this all-inclusive package is for you. It comes with a color palette and cream makeup that is typical of most sets, but it's also packed with fun extras like fake blood and skin, glitter gels, hair color, and even black tooth wax.
2
Best Deer Kit
Deerling Make-Up Kit
Fun World
target.com
$12.76
Flower-covered antlers and a variety of stick on gems upgrade this costume from basic woodland animal to enchanted forest creature.
3
Best Deer Kit (Runner-Up)
Deer Makeup Kit
Forum Novelties
amazon.com
$4.99
If you're ballin 'on a budget, try this set with neutral cream colors and black liner to create the deer's trademark white spots, fully rimmed eyes, and black nose.
4
Best Mermaid Kit
Adult Sea Siren Mermaid Makeup Kit
Use the adhesive stencils and blue cream makeup to place scales on your face, neck, and body. Top them off with glitter gel and add stick-on rhinestones around the eye for an enchanting sea siren gaze.
5
Best Aspiring Unicorn Kit
Body Glitter by iMethod
Unicorns are practically synonymous with glitter, and this set has plenty of it. Use the included glue to stick the sparkles on your face, body, and even hair. Bring everything together with this cheap horn, which comes in a variety of colors.
6
Best Advanced Gore Kit
Special FX Trauma Pro Makeup Kit
Graftobian
amazon.com
$109.95
If you're into the art of gore, this extensive professional kit has you covered with everything from zombie guts to liquid latex flesh. And, of course, a few fake blood varieties.
7
Best Affordable Gore Kit
Zipper FX Makeup Kit Standard
Fun World
amazon.com
$9.39
Three things have won reviewers over with this kit: it's frighteningly realistic, can be completed in 30 minutes or less, and is super affordable.
8
Best for Bruises
5 Color Bruise Wheel
This small color wheel helps you create everything from a boxer's bruised knuckles to brutal zombie scars.
9
Best for KISS Enthusiasts
Make-Up Co. Kiss Makeup Kit
Graftobian Make-Up Co.
amazon.com
$29.99
Transform into one of KISS's rock music legends with face powder, cream makeup, and eyeliner.
10
Best Multi-Use
Flash Color Palette Multi-use Cream Color Palette
MAKE UP FOR EVER
sephora.com
$99.00
Although this highly-pigmented cream color palette is ideal for Halloween, makeup enthusiasts use it all year as lipstick, cheek color, liner, and more.
11
Best Affordable Multi-Use
Athena Face Body Paint Oil Palette
This 20 color color palette is ideal for intricate face designs and cosplays creations. Although most reviewers claim that the makeup is long-lasting, it's not swear or waterproof since the paints are oil based. 
12
Honorable Mention
Mesmerize
Whether you want to be a panther or leopard, this palette of dazzling metallics has you covered. It's also the perfect addition to your makeup kit for those who love to regularly rock smoky eye makeup.
13
Honorable Mention
Mothership III Eyeshadow Palette – Subversive
PAT McGRATH LABS
sephora.com
$125.00
Pat McGrath eyeshadow palettes never fail to deliver spectacular pigment, which makes them perfect for Halloween. The colors in this palette work great for creating a glamorous broken doll or sultry witch.
14
Honorable Mention
Color Kit
Top off any look with these vivid magnetic lashes, which will last you for Halloween and beyond with 30 uses each.
15
Honorable Mention
Colorfix Neon
danessamyricksbeauty.com
$18.00
We love that these hybrid creams deliver high-impact color on the eyes, lips, and face without fading or smudging. 
This content is created and maintained by a third party, and imported onto this page to help users provide their email addresses. You may be able to find more information about this and similar content at piano.io
Advertisement – Continue Reading Below