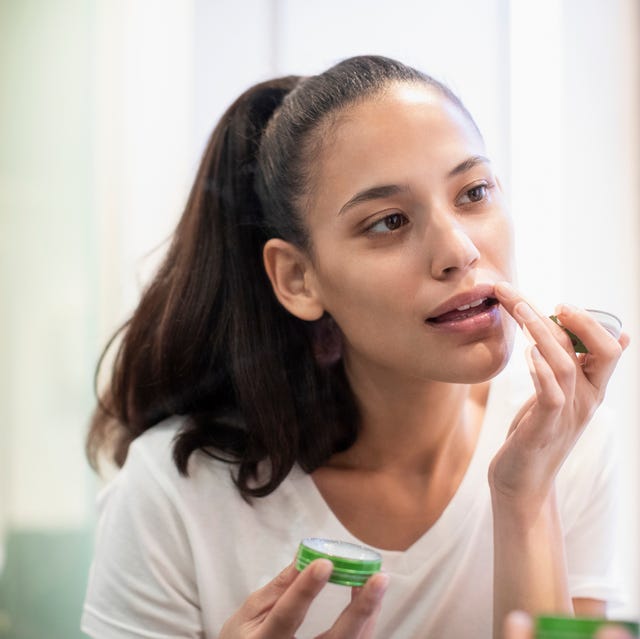 Hoxton/Sam EdwardsGetty Images
Beauty trends ebb and flow as quickly as the seasons change—sometimes even quicker. Remember pencil-thin 90s brows? Or maybe you dabbled with glitter roots during festival season? While there will always be wacky trends entering the beauty realm at lightspeed, there have been a heap of them that have proved their staying power, namely, lip enhancements.
Lip augmentation is an increasingly popular, non-surgical, semi-permanent cosmetic procedure that adds volume to thin lips. But, there's an alternative (and more frugal) way to perfect your pout without committing to lip enhancement treatments long-term and the hefty price tag that comes along with it: Lip plumpers.
The plumper, softer pout of your dreams is just one lip gloss away, thanks to all the quick-fix lip-boosting glosses on the market. These glosses, made with either hyaluronic acid or collagen, impart a subtle (or not-so-subtle) tingly sensation that cause your lips to swell without you having to step foot in a derm's office. Ahead, shop the 10 best lip-plumping glosses for your dream pout.
Advertisement – Continue Reading Below
1
For Daily Use
Hyaluronic Acid Lip Booster
PCA Skin
dermstore.com
$45.00
This treatment isn't a gloss, but it glides on as smooth as your favorite balm. Formulated with Ultra Filling Spheres, a ingredient blends hyaluronate and konjac root, and humectants for moisture, the PCA Lip Booster can be used daily to plump up your lips over time. 
2
The Bestseller
Full-On Lip Polish
Lip plumping glosses aren't always a boring clear color. Buxom offers 100 (!) different colors to choose from so you can enhance your lips regardless of your lipstick shade. Plus, it gives a tingly, cooling sensation that lasts few minutes. 
3
It-Girl Approved
Dior Addict Lip Maximizer Plumping Gloss
This Dior classic is a Bella Hadid favorite and comes in six different high-shine colors. It uses the power of hyaluronic acid to add volume and moisture, because plumped, chapped lips aren't cute. 
4
The Dior Dupe
Outrageous Effect Volume Lip Gloss
Sephora Collection
sephora.com
$12.00
Yes, Sephora carries thousands of brands, but don't ever sleep on Sephora Collection. The high-shine formula combines ginger root oil and peppermint oil that maximizes volume and instantly hydrates the lips for just $12.
5
The Cult-Favorite
Lip Injection Extreme
Too Faced
sephora.com
$14.00
Too Faced gained cult status for its fan-favorite eyeshadow palettes, mascara, and its iconic Lip Injection gloss. The formula feels as spicy as eating a plate of hot buffalo wings—but in a good way. 
6
Au-Naturale
Argan Lip Sting Plumping Butter
Josie Maran
sephora.com
$23.00
An even healthier alternative, Josie Maran combined 100 percent argan oil, manuka honey, and moringa butter to create a creamy lip enhancer that seals in the moisture while it works its magic. 
7
Long-Lasting
O-PLUMP Intuitive Lip Plumper with Goji Berry-C Complex
Smashbox
nordstrom.com
$27.00
Coat your lips with this formula made of Goji Berry-C Complex, ginger mint, pomegranate seed antioxidants and more. The soft pink hue it leaves enhances the natural color of your lips and it stays put so no need to reapply every second. 
DuWop
dermstore.com
$16.00
DuWop's Lip Venom was around long before the lip-enhancement hype. One of the first lip-plumping glosses on the market, the secret is in the "sauce": essential oils made with cinnamon, ginger, and wintergreen. These ingredients combined cause all the blood to rush to the lips to give you a picture-perfect pout in minutes.
9
The Drugstore Gem
Lip Plumping Gloss
e.l.f. Cosmetics
ulta.com
$5.00
You'd be pleasantly surprised to see what this $5 lip gloss does compared its pricer competitors. E.L.F whipped up a nourishing blend of vitamin E and coconut oil for a supple finish. 
10
Worth The Splurge
The Lip Volumizer
La Mer
nordstrom.com
$75.00
Look past the pretty penny you'll spend and focus on the results. La Mer's Lip Volumizer formula aims to soften and plump lips while reducing the appearance of wrinkle lines. 
Advertisement – Continue Reading Below