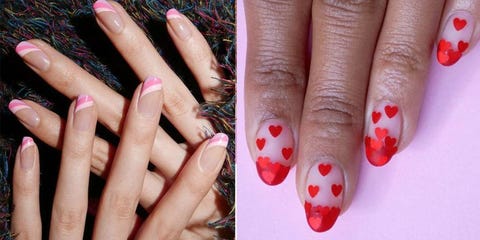 @alicatnails / @nailsbymimi
As much as I enjoy getting manicures, I'm not the best at maintaining them. I'm too lazy to get them regularly, yet can't stand walking around with them chipped—an inevitability just days after getting them painted. If I go the gel route, I'm too lazy to get them refilled and get some unsightly grow-out. So recently, I tried out the best solution: negative space manicures.
Negative space manis, in which your natural nail is incorporated into the nail art, are brilliant because they can still look good well beyond one week. In my experience, if the design is only on the upper half of your nail, and done in gel, you can keep the same manicure for up to a month. It's smart for long vacations, busy schedules, and low-maintenance folks. Plus, there's something really eye-catching about the minimalism that feels fresher than a solid color. Ahead, top nail artists provide inspiration for your next appointment.
Advertisement – Continue Reading Below
Advertisement – Continue Reading Below
Advertisement – Continue Reading Below
Advertisement – Continue Reading Below
Advertisement – Continue Reading Below
Advertisement – Continue Reading Below
Advertisement – Continue Reading Below
Advertisement – Continue Reading Below
Advertisement – Continue Reading Below
Advertisement – Continue Reading Below
Advertisement – Continue Reading Below
Advertisement – Continue Reading Below
Advertisement – Continue Reading Below
Advertisement – Continue Reading Below
Advertisement – Continue Reading Below
Advertisement – Continue Reading Below
Advertisement – Continue Reading Below
Advertisement – Continue Reading Below
Advertisement – Continue Reading Below
Advertisement – Continue Reading Below